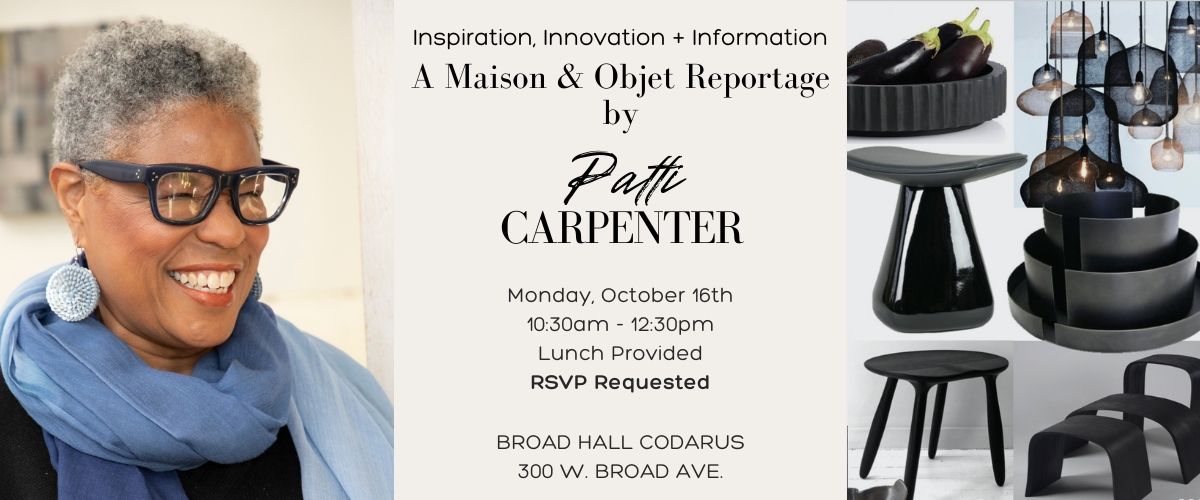 Maison & Objet Reportage by Patti Carpenter


Monday October 16, 2023




10:30 am - 12:30 pm
Inspiration, Innovation and Information: A Maison & Objet Reportage by Patti Carpenter
Join Global Trend Ambassador, Patti Carpenter, a luminary in the field of design trends, as she takes you on an extraordinary journey through international trends and influences in decoration and design that will impact color, print, pattern, surface designs, and materials for the U.S. home and gift industries for 2024 and beyond.
Calling all visionary interior designers seeking to stay ahead of the curve in the dynamic world of decoration and design! CODARUS invites you to an exclusive event that promises to ignite your creative spirit, expand your horizons, and equip you with unparalleled insights into the future of interior aesthetics.
Event Details:
Date: Monday, October 16th
Time: 10:30am – 12:30pm
Hospitality: Lunch will be served
RSVP is Requested
Elevate your design sensibilities, harness the power of international trends, and set the stage for your most exceptional creations yet. Join us at "Inspiration, Innovation and Information: A Maison & Objet Reportage by Patti Carpenter" and embark on a journey that promises to reshape your design trajectory. Don't miss your chance to be a true trailblazer in the world of interior design.
Address:
300 W. Broad Avenue
,
High Point
,
North Carolina
,
27260
,
United States