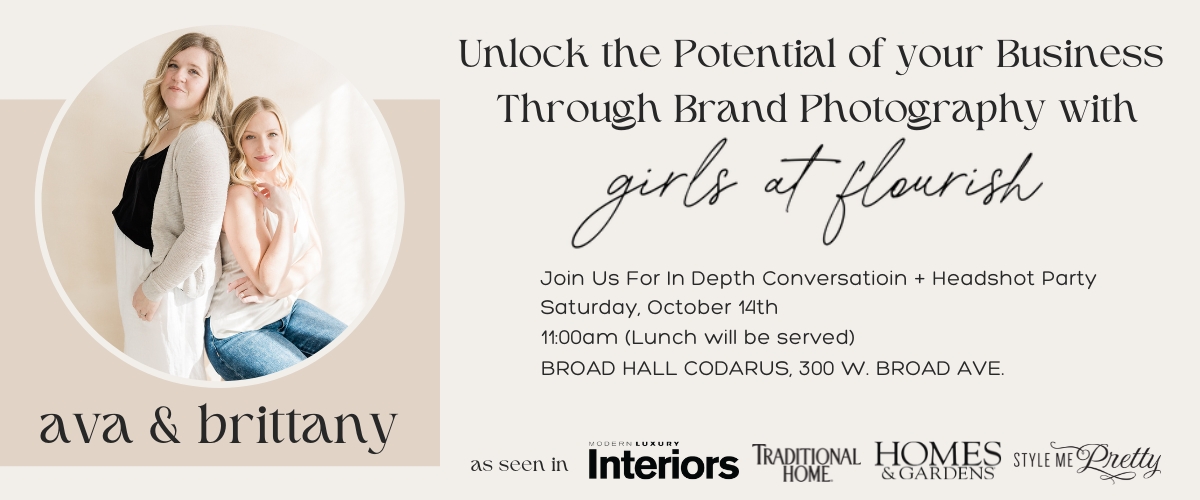 Saturday October 14, 2023




11:00 am - 12:00 pm
Are you in the luxury home industry looking to take your business to new heights? Join us for an exclusive event designed to help you harness the power of brand photography and elevate your business like never before with Ava Vienneau + Brittany Bowen, Girls at Flourish.
Event Details:
Date: Saturday, October 14th
Time: 11:00am
Location: BROAD HALL CODARUS, 300 W. Broad Avenue
Lunch will be served
About the Event: In a competitive market, a strong brand image is your key to standing out and attracting the right clients. In the home industry, your unique vision and design philosophy deserve to be showcased in a way that captures attention and resonates with your target audience. This event is tailored to provide you with the insights and tools needed to unlock the full potential of your business through the art of brand photography.
Join The Conversation with Girls At Flourish about Brand Photography: Learn from Ava + Brittany about the significance of brand photography and how it can help convey your design style, philosophy, and values. Discover techniques to translate your creative concepts into visual storytelling that sets you apart.
Crafting A Visual Identity: Dive into the process of crafting a consistent and captivating visual identity for your business. Understand color palettes, aesthetics, and imagery that align with your brand, creating a memorable impression on your potential clients.
Q&A and Networking: Engage in a dynamic Q&A session with Girls at Flourish, where you can seek personalized advice and solutions for your brand photography challenges. Connect with fellow attendees during the networking session and forge valuable relationships within the industry.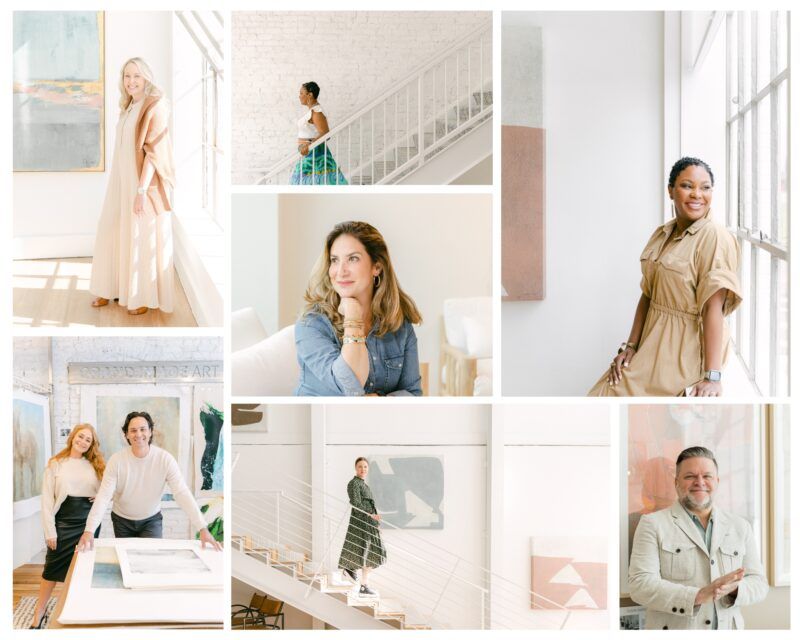 The Free Seminar will be succeeded by a Headshot Party: You have the choice to participate in a brief headshot session with Girls at Flourish, hosted in the CODARUS showroom. This opportunity comes with a $100 fee and offers 20 available time slots. Each session lasts 5 minutes and guarantees you 5+ fully edited images. The package encompasses wardrobe planning, a session guide, and the option to utilize our hair and makeup artist.
Here is a preview previous photo sessions held in our CODARUS High Point Showroom.  Book your session & elevate your personal brand with professional headshots that reflect your professionalism and approachability. 
About Girls At Flourish:
Brittany and Ava are the co-founders of Girls at Flourish, a full-service creative photography agency with a niche expertise in the luxury home industry. The duo's experience is vast, with a combined 20 years of experience, their resume has spanned from in-house photography for Studio McGee, shooting clients featured in AD and timeless brand content for up-and-coming designers. It is their mission to help interior design businesses gain a competitive advantage in the marketplace through their brand imagery. Today, some of the most talented home and design leaders are championing the duo as their "go-to" photography resource.
Address:
300 W. Broad Avenue
,
High Point
,
North Carolina
,
27260
,
United States